Detection sensitivity or therapeutic response prediction accuracy, which weighs more on NSCLC EGFR blood testing?
Date:2017-09-20
Source: AmoyDx
Recently an AURA 17 extension study was presented at the 2017 EMSO (European Society for Medical Oncology) Annual Congress in Madrid by experts on lung cancer from China. and the study evaluated the efficacy of the third-generation EGFR-TKI Osimertinib (AZD9291) in Asia-Pacific NSCLC patients associated with circulating tumor DNA (ctDNA) EGFR mutation status that analyzed across three plasma-based platforms (Cobas plasma test, Super-ARMS test and ddPCR).
AURA 17 enrolled 249 patients with tissue DNA EGFR T790M positive advanced NSCLC following disease progression from a first-line EGFR TKI, which also provided matched plasma samples for ctDNA mutation detection using three tests: Roche cobas® EGFR Mutation Test v2.0 (cobas plasma), AmoyDx SuperARMS® T790M Assay (SuperARMS) and in-house developed droplet digital PCR assay (ddPCR). The data showed that, the ctDNA T790M mutation positive rates for each plasma test are: cobas plasma 42% (68/163), SuperARMS 49% (82/168), ddPCR 56% (94/167).
The Objective Response Rate (ORR) of osimertinib in T790M positive patients for each plasma test are: cobas plasma 56% (36/64), SuperARMS 64% (49/77), ddPCR 56% (49/87). This indicates that ctDNA derived from a blood sample could be used to assess EGFR T790M status and guide the treatment of osimertinib.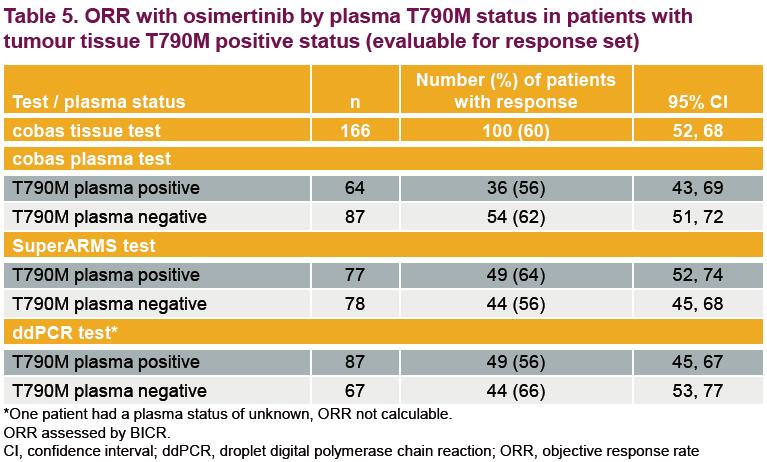 It is worth mentioning that, the ctDNA T790M detection rate by SuperARMS (49%) was lower compared with ddPCR (56%) and higher compared with cobas plasma (42%), but the ORR with osimertinib by SuperARMS (64%) was significantly better than cobas (56%) and ddPCR (56%). This further supports that SuperARMS is reliable for ctDNA EGFR detection and could be applied in blood testing.
Another FLAURA study announced at 2017 ESMO showing the possibility of extensive application of osimertinib in first-line therapy from previous second-line therapy. SuperARMS technology was not only for T790M mutation detection, but also developed for EGFR sensitizing mutations. SuperARMS is an innovative and fast method for liquid biopsy mutation detection and allows detection of as little as 0.2% mutant DNA in a background of wild-type genomic DNA. A new study published on PLosONE in August 2017, issued by Dr. Yuping Li from the First Affiliated Hospital of Wenzhou Medical University in Zhejiang, China evaluated the concordance between plasma ctDNA EGFR mutation detection and tumor tissue mutation detection, and the relevance to response of EGFR-TKI. It showed the 82% clinical sensitivity and 100% specificity of SuperARMS EGFR mutation testing in plasma compared with matched tumor tissue sample. The ORR of EGFR-TKIs treatment in plasma EGFR mutation positive patients was 65.7%, very close to the ORR in tissue EGFR mutation positive patients.
To sum up, besides high sensitivity, the patients' benefit from EGFR-TKIs treatment is another but more important judgement criterion for plasma ctDNA test.
 BACK
TOP