Latest News: Amoy Diagnostics born another clinical detecting center
Date:2020-03-14
Source: AmoyDx
Shanghai Xiawei Biotechnology Co. Laboratory (hereinafter referred to as "Shanghai Xiawei") under Amoy Diagnostics passed the examination of Shanghai Municipal Health Commission and was granted the "Practice License for Medical Institutions". So far, Amoy Diagnostics has two medical laboratories, and the clinical precision of oncology services has reached a new level.
Based on the application of innovative molecular diagnostic technology, Shanghai Xiawei integrates Amoy Diagnostics' rich technology and product reserves, as well as strong sales channels, to build a precise tumor diagnosis platform serving clinical, expert and pharmaceutical companies. Shanghai Xiawei has obtained CAP (College of American Pathologists) certification in 2018. The CAP certification is an industry-recognized "gold standard" for quality certification, marking that Shanghai Xiawei's quality management system and experimental technology have reached international advanced standards level.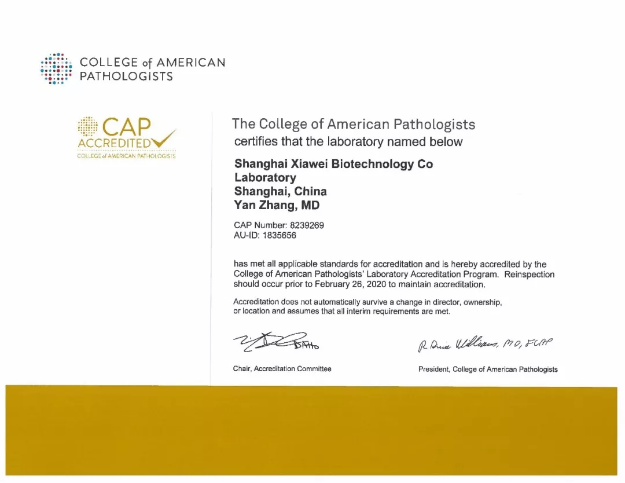 "Practice License for Medical Institutions" is the basis for third-party medical laboratories to provide clinical testing services, and it is also the legal guarantee for the results of third-party medical laboratories to assist clinical treatment. Currently, Shanghai Xiawei passed the review by Shanghai Municipal Health Commission and was approved for two subjects, "Pathology" and "Clinical Cell Molecular Genetics". This indicates that Shanghai Xiawei has the ability to carry out comprehensively in cytopathology, tissue pathology, molecular pathology clinical diagnostic services and legal qualifications, also can provide clinical testing services to medical institutions.
The clinical examination qualification and CAP certification demonstrates the strength of Shanghai Xiawei laboratory. Shanghai Xiawei laboratory is equipped with a full set of molecular pathology equipment, a professional clinical diagnostic team and a digital management system. It has built a full technical platform such as ARMS / Super-ARMS PCR, NGS, ddPCR, FISH, Sanger, IHC, cytology detection and powerful real-time data analysis system, and can provide real-time detection progress tracking and intelligent diagnostic report interpretation, bringing customer excellent experience.

Shanghai Xiawei Biotechnology Co. Laboratory & AmoyDx Medical Institution

With AmoyDx Medical Institution and Shanghai Xiawei Biotechnology Co. Laboratory, Amoy Diagnostics clinical detection laboratories have passed the CAP certification and the qualification approval of the Health Commission with excellent results. The detecting capabilities have been recognized by domestic and foreign authoritative organizations such as CAP, EMQN, NCCL, CNAS, PQCC. In various inter-room quality evaluation and proficiency testing projects, they have passed the certification with excellent results. So far, Amoy Diagnostics has completed the capacity building of third-party medical testing services in Shanghai and Xiamen, and can provide customers with a comprehensive range of precision medical clinical tumor detection solutions. In the future, Amoy Diagnostics will continue to take the responsibility of establishing a national brand, strictly abide by norms and continuous innovation. Amoy Diagnostics become a trusted partner of experts and pharmaceutical companies, in target of helping more cancer patients to benefit from precision medicine.
 BACK
TOP